DOG TRAINING DESIGNED FOR REAL LIFE.
Most of our clients want to know what theories, techniques, and tools will be used when we work with their dog(s).  However, the theories, techniques, and tools used depend on a variety of factors.  There are countless opinions on what types of dog training are best.  Some in the dog world believe that training exclusively with positive reinforcement is correct, while others believe that more negative reinforcement and punishment are best.  Based on our extensive research and experience, we have come to the conclusion that above all else training must be humane. That being said, there are applications for almost all dog training practices, theories, techniques, and tools. However, when, where, and how you use them are crucial to determining the level of success achieved.  In dog training, each individual situation dictates either success or failure. Things can often change, sometimes from moment to moment.  To be successful, a dog trainer needs to have the ability to adapt to several factors including but not limited to the individual dog, the dog's owner, and the environment.  Taking these key factors into consideration is the best way to design a dog-training program that will lead to a successful outcome.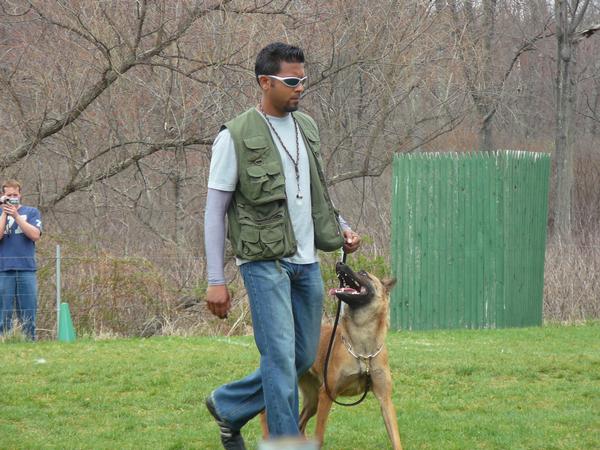 To illustrate our balanced approach, we like to use the analogy of driving and operating a car.  In order to operate a car successfully, you need both gas and brakes.  The use of the gas pedal can be compared to the use of positive reinforcement, with the use of the brakes being compared to the use of negative reinforcement.  So, exactly how much of the gas pedal and how much of the brake pedal will you use to drive and operate a car successfully?  Without knowing where you're going, what kind of car you're driving, where you're driving to and from, and/or how much time you actually have to get to your destination, it's almost impossible to answer that question accurately.  In fact, without more details, you can't accurately answer such a vague question at all.  However, you do know that if you attempted to drive and operate a car with either the gas pedal or the brake pedal exclusively, you'd be unsuccessful.  If you attempted to drive using just the gas pedal and no brakes, it would be dangerous, and you'd encounter minor and/or major problems such as accidents!  If you attempted to drive using just the brake pedal, you'd have trouble leaving your parking spot to begin with!  In order to drive and operate a car successfully, you need both, in balance, and how much you use of each depends on each individual circumstance and situation.  In similarity to the steady balance needed between the use of both the gas pedal and the brake pedal in successful driving, the key to successful dog training is the implementation of a steady balance between the use of positive and negative reinforcement.  Our chosen theory and our dog training philosophy is a simple one and it has yielded success time and time again. No matter what your goals are for your pet or working dog – you must take a Balanced Approach!

Watch some of the training commands your dog may learn with us, demonstrated within practical situations!
Our team is comprised of dog training professionals who have over twenty years of experience in dog obedience and agility, rescue dog rehabilitation, and police and drug detection dog training. Please view our "Training" section to learn more about the services we can customize for your puppy or dog.
"I cant say enough about Modern Canine Solutions. Helped us be better leaders for our dominating Rottweiler. We were close to having to make a tough decision... Now all is good. Thank you so much Waleed!"
"Best dog trainer on Long Island! Went through 3 trainers before we finally found Waleed. Understood our problem and helped us fix some issues with our Golden. Very patient and knowledgeable. A++++"