DOG TRAINING DESIGNED FOR REAL LIFE.
With more than 20 years of experience with dogs and their behavior, Waleed Maalouf is a professional
dog trainer in Long Island
whose career began in New York City, and is now currently living in the suburbs of Long Island.  His dog training career started when he graduated the Canine Behavioral Institute School for Dog Trainers in 1996.  Since then, he has traveled extensively, working with various professionals and trainers in the dog world, in both the United States and Europe, most notably during his time living in Belgium.
Waleed has been active in competitive dog training competition since 2000, primarily in the North American Ring Association, where some of his accomplishments include nine first place finishes, three second place finishes, and one third place finish with his personal dogs, Zodt (R3), Jetta (R2), and Gucci (R1).  In addition, he has coached different handlers and their dogs to similar accomplishments and beyond, as well as being a certified N.A.R.A. decoy for 10 years, including a Level 3 selection, which is the highest possible status.
Waleed is also the founder of Barriques Malinois, one of the most successful working canine breeding programs of Belgian Malinois within the last 10 years, here in the United States.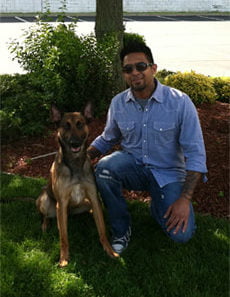 His dog training seminars and private dog training lessons now offered in Long Island have helped countless dog owners with various behavior and training problems throughout the United States. He has conducted many training seminars for various rescue organizations and shelters focusing on implementing the use of more progressive and modern training techniques with the goal of rehabilitating and modifying behavioral issues for dogs with less fortunate histories. In addition, he has also conducted seminars and workshops focusing on the use of these more progressive and modern training techniques for professional dog trainers and advanced handlers involved in competitive obedience, agility, Schutzhund, Belgian Ring Sport, French Ring Sport, and K-9 law enforcement.
Waleed's most exceptional quality with dogs is his versatility. He has the experience and understanding to implement a wide variety of different methods and techniques within a dog training program, making him capable of solving a wider range of problems with dogs and their behavior than the average trainer. His experience comes from a very unique background of theories and techniques combining the use of positive reinforcement and negative reinforcement, giving him the ability to adjust these techniques for the individual lifestyles of various dogs and their owners. From the average pet owner to the more experienced and competitive dog handler, Waleed's skills and talents have helped many in the dog world!
Watch some of the training commands your dog may learn with us, demonstrated within practical situations!
Your Long Island Dog Trainers
Our team of dog trainers is composed of professionals with over twenty years of experience with everything from dog obedience and agility training, to police and drug detection training. All of this ensures we can help with any situation you may have and any dog training program you may need to undergo with your furry friend.
"I can't say enough about Wallys World of Dogs. Helped us be better leaders for our dominating Rottweiler. We were close to having to make a tough decision… Now all is good. Best dog trainers on Long Island!"
"Best dog trainer on Long Island! Went through 3 trainers before we finally found Waleed. Understood our problem and helped us fix some issues with our Golden. Very patient and knowledgeable. Now I'm very happy. A++++"
CONTACT OUR LONG ISLAND DOG TRAINERS